On Tuesday, September 14, 2021, as part of our 2021-2022 speaker series, Understanding Haiti,  author Laurent Dubois, discussed the long-term history of the country in a lecture entitled "Haiti & Democracy", focusing on the complex political and cultural dynamics that have shaped the present at the First Congregational Church of Old Lyme. If you missed the lecture, you can view it here! Please go to minute 15:00 to advance to the lecture. The first 15 minutes was a SECWAC meeting.
This free presentation was a hybrid event sponsored by Sister Cities Essex Haiti and Southeast Connecticut World Affairs Council.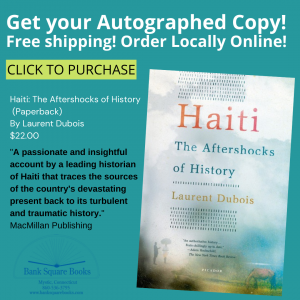 "A passionate and insightful account by a leading historian of Haiti that traces the sources of the country's devastating present back to its turbulent and traumatic history."
MacMillan Publishing
Laurent Dubois is a veteran educator and a specialist on the history and culture of the Atlantic world who has published several award-winning books, including "A Colony of Citizens: Revolution and Slave Emancipation in the French Caribbean, 1787-1804" (Omohundro Institute for Early American History and Culture and UNC Press, 2004), winner of the Frederick Douglass Prize, and "Haiti: The Aftershocks of History" (Metropolitan Books, 2012), named a New York Times Notable Book of 2012. His writings on music, history and sports – soccer in particular – have appeared in The Atlantic, The Nation, The New Republic, The New Yorker, The New York Times, Slate and Sports Illustrated.