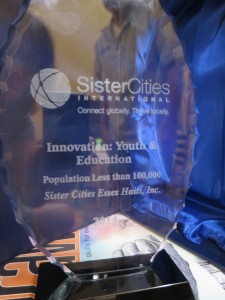 Sister Cities International, based in Washington D.C., awarded the 2014 Sister Cities International Innovation: Youth & Education (Population less than 100,000) award to Sister Cities Essex Haiti! This award is in recognition of the outstanding exchange work done by Sister Cities Essex Haiti in advancing the goals and mission of the sister cities movement.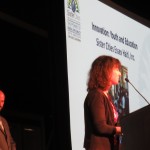 The 2014 Sister Cities International Innovation Award (Youth and Education) recognizes the accomplishments of outstanding community and individual sister city programs that promote peace through mutual respect, understanding, and cooperation.
The mission of Sister Cities Essex Haiti, Inc. (SCEH) is to build a mutual long-term sustainable relationship between the people of Essex, Connecticut and the people of Deschapelles, Haiti, their extended communities, and Hospital Albert Schweitzer located in Deschapelles.
Since 2011, SCEH has been working on the "Early Education Project" in conjunction with a volunteer group called Organization Economique Developpment et Social (ODES). The objective of the project is to work with teachers in Deschapelles to enhance existing curricula, introduce hands-on educational materials important to cognitive development, provide the necessary equipment and materials, and for American and Haitian teachers to learn from one another.
Stage two of the Early Education Project began in 2013, as SCEH and ODES held workshops in both Essex and Deschapelles. The program has grown from three schools in 2011 to 15 schools in 2013, as knowledge has been effectively disseminated and shared with workshop participants and educators at several schools in Deschapelles.
To learn more about the Early Education Teacher Training Program click here.  Click here for a video about a the Program.
Kathleen Maher , SCEH President and founding member upon receiving news of SCEH being the recipient of this award commented, " We are extremely honored to accept this award. The energy and enthusiasm of all those involved particularly the educators in Deschapelles, Haiti (who approached us with the early education program idea), the volunteer educators in our area who have enthusiastically shared their talents and skills, Essex Elementary School, Region 4 Schools, the SCEH Board for their guidance, ODES (our partnering volunteer organization in Deschapelles), Jenifer Grant for her enthusiastic leadership, and all our supporters are to be congratulated and commended."
Jenifer Grant, SCEH Vice President Deschapelles Project Coordinator and founding member enthusiastically added, "To be able to work with the pre-school teachers in Haiti with my French and Kreyol speaking confreres from the US has been an experience that we will value all our lives. I never imagined that those efforts would inspire teachers here to find ways for their students, in Essex and Middletown, to create relationships which further understanding between the different cultures. We are grateful for being honored for something that provides us with so much pleasure."
Dr. Ruth Levy, Region 4 School Superintendant and SCEH Board member sent her "Congratulations!" and commented "It's all about connections…coming together as a community and a school system, uniting not just one small community but countries in which we can learn from one another, be respectful of diversity, and benefit from the relationships created. It is a small world that we live in. SCEH builds relationships that span oceans."
Essex First Selectman Norman Needleman, offered his congratulations on behalf of the town of Essex and further added, "There is a great community spirit which is alive and well in Essex, and this is just one of many fine examples of this community's ability to achieve within and beyond its geographical boundaries."
Sister Cities Essex Haiti works to build cooperation between the people of these communities, enabling them to learn, work and solve problems together by collaborating with ODES, volunteer partners and with HAS through an exchange of educational, cultural, professional, municipal, business, and technical initiatives and projects.