The following "Vignettes" are written by people who have spent time in Haiti and would like to share their stories.  
 *******************************
Katy Klarnet, a retired librarian living in Old Lyme, Connecticut, visited the library in September 2015. This is her story.
Boots on the ground: my time at Bibliothèque Communautaire Deschapelles
 As a retired librarian (and now occasional substitute at area public libraries) I was interested to learn that Sister Cities Essex Haiti (SCEH) had launched a library building project in Deschapelles, Haiti, and I offered to help. This led to me to spend several months off and on as a volunteer consultant, advising Terry Parkinson, Chair of the Library Committee and Jenifer Grant, Vice-President & Deschapelles Project Coordinator on some of the technical and procedural aspects of establishing and running a community library. (Jenifer's life-long commitment to Haiti as a Board member and the daughter of the founders of Hospital Albert Schweitzer [HAS] in Deschapelles was a catalyst for the formation of the sister cities relationship between the two communities. The story of their ambitious library project and other activities is well told on the SCEH website at https://www.sistercitiesessexhaiti.org/new/). As the building neared completion and the time to set up shop approached, I prepared to transition from "blue sky" consultant to hands-on participant. It was time to put boots on the ground by accompanying Jenny Grant on a four-day visit to Deschapelles. Here's how it went.
Thursday, Sept. 3
We arrive in Deschapelles at the end of a very long day that's been filled with astonishing new sights and sensations. On arrival hours earlier at the airport in Port-au-Prince, Jenny pushes a luggage cart piled high with bags of library supplies and a few personal items through the unfamiliar customs procedures, surrounded by the crush of porters competing for our business, while I trail behind with the carryon bags. When we exit the building, the heat is stunning! A sun and summer lover, I can tolerate a lot of heat, but Haiti in September takes hot to a whole new level. It's probably the hottest month here but throughout my visit I'm impressed by how seldom anyone, including visitors and expats, even mentions the heat. Maybe it's because there are more important problems to deal with – problems that, unlike the weather, many Haitians and their allies are working to solve. People in the Artibonite Valley where Deschapelles is located survive mainly as subsistence farmers. Fewer than half the children attend schools that lack almost any books or other materials, and they struggle daily without any of the basic resources we take for granted – access to clean water, electricity, sanitation or transportation. Fortunately, there are also some business owners and community leaders who are working to make life better for their community, and these are our partners. And in spite of the hardships of daily life, many of the people I see and all of those I meet seem full of hope and determination, not to mention good humor and goodwill. A foundational belief at HAS, the source and wellspring of so much hope and progress in the community, is a quote of Albert Schweitzer's: "You cannot alleviate all the suffering in the world, but you can give hope to one single man." The truth of this idea is evident in Deschapelles.
Back to the airport. We stand in the heat, surrounded by assertive porters – intimidating but not frightening; they're just trying so hard. It's a fair introduction to the facts of life in this country. Jenny's phone isn't set up for local calls yet; she can't reach Anny, our colleague and for today, our driver. So one of the porters helpfully offers to make the call – his only agenda, to be helpful. Eventually we do find Anny, piling our bags and ourselves into her sturdy SUV. That sturdiness will be tested on the drive ahead, as we take a seldom travelled, rugged route through the region's interior; an angry political protest has led to a roadblock on the "easier" route. The conditions on our drive – of the road, the land, but especially of the people who walk and walk, endlessly, over miles of dusty roads, loads of charcoal (the region's primary cooking fuel source) on their heads or their donkeys' backs, traveling to or from distant markets – these sights are new and amazing to me, though not to my veteran companions. They see all of this and elsewhere in our travels – the teetering, overloaded tap-taps, dilapidated shanties, chaotic markets, garbage filled alleys and malnourished children – but they also make sure to point out the frequently gorgeous views of distant mountains, winding streams and verdant valleys, smiling children and men and women who wave hello.
At last, as dusk descends, we arrive in Deschapelles. We park outside the library and I see the just-completed building for the first time – its stone and iron exterior walls rising in the middle of a bare, still-to-be-landscaped courtyard surrounded and secured by a solid wall, topped with an iron grate and connected to a solidly constructed guard house. It is a sight so beautiful, so improbable, so wonderful in this harsh, impoverished, struggling community that it might appear is if deposited by aliens, but in fact it exists through the determined efforts of two communities – one in Connecticut and one here in Deschapelles. The building would not be out of place in a much richer environment, as the space is beautifully designed to be protected from the elements but open to the outside, topped by a skylight filled, atrium-like roof, with large, grated windows that let in a maximum of natural light.
Seeing all of this in the original design, in blueprints and renderings, really hasn't prepared me for the real thing. Because there is nothing like this here. It really is a kind of miracle.
Tomorrow, I will see the inside and we will get to work. But now, the light is failing and the bugs are biting. It's time to go "home" to Kay Choucoun, the modest bungalow that Jenny Grant and Sister Cities volunteers use as a crash pad when they visit Deschapelles, and which serves at other times as an offsite library office and local SCEH headquarters.
Friday and Saturday, Sept. 4 and 5.
When we get to the library around 8AM, a small group is waiting: security guard, some curious local adults – and children (future volunteers and patrons) and, at last, the 5 important library employees I've been hearing about for months: Besley, Odverne, Wednise, Pleurette & Elicianne! I am excited to meet them and nervous – mostly about how we will communicate. My French will not be adequate, my Kreyol is non-existent. How many times has Jenny had to reassure me that yes, there will be someone to help translate — a lovely, eager helper named Louines Domingue (Linus in English).
Introductions are made and I have my first experience with the warmth of a typical Haitian greeting: a handshake and a kiss on the cheek from everyone. Most Haitians, I come to understand, routinely offer this kind of personal, affectionate greeting even to strangers. Whatever else our language barrier and cultural differences may prevent me from coming to know about these people in four short days, the easy warmth, ready humor, resourcefulness and optimism of the people involved in the library and the Deschapelles community is evident.
Inside the building, we survey the scene: fully finished library space, walls, floors, shutters, fixtures – bright light streaming in. Work tables are scattered randomly in one section of the front study area, dozens of colorful adult chairs are stacked here and there, beautifully decorated children's chairs and tables are stored in the gatehouse, where just completed bookshelves are also waiting. To the small collections of clerical and library supplies delivered earlier, we add more practical items – notebooks, file folders, index cards, pens, rulers, scissors, a portable typewriter etc. that made the trip with us. But the overwhelming task before us, before me and the four library staffers politely waiting for instructions (Besley is occupied with computer software issues): boxes and boxes of books. Used, new, donated, purchased – a seemingly disorganized collection that has slowly accumulated while the building neared completion.
And so we begin: to unpack the books, clean the furniture, organize the books, move the furniture and reorganize the books. I am confused, inefficient, and the challenge of communicating in my faulty French with Kreyol speakers, even with some translating assistance, combined with the stupendous heat (which seems to bother no one but me) makes the process feel at times as if we are all moving in slow motion. But soon, somehow, work gets underway, tasks get identified, a process takes shape. Turns out about half the books have already been examined and assigned a Dewey number – a few of the staff have been working on this for weeks; my little manual delivered months earlier and the big fat FOKAL guide have been of real use, careful thought and hard work has been invested in advance so that we can make the best use of this time, of everyone's energy and effort and of my modest expertise which at last, I can provide in person. With my encouragement, Pleurette and Elicianne set to work creating Dewey labels for the spines of the books. Wednise and Odverne and I – with help from Anny – attempt to assign more Dewey numbers to the many books as yet un-classified, a difficult job that I soon realize Wednise is particularly skilled at. What I don't know about these colleagues – and just about everything and everyone in Deschapelles – is a lot! While this work proceeds in the adult area, Jenny is arranging furniture and beginning to sort the children's books into reading and read-to levels.
About the books – the adult books are a mixed collection, mostly in French, many donated, but others new and spiffy. By design at this point, the collection is thin, for the goal is to start with a framework for the future, to which new books will be added as the needs and interests of the community become clearer and the gaps in the collection become obvious. Still there is a healthy diversity – of literature, history, a beautiful new set of instructional workbooks for teachers and students, art books, and French language instruction. There is a good assortment of novels, stories and poetry. We see there may be a need for more science and art and some light reading titles — just the kind of thing we need to know. We also know there are plans in the works for tablets with large digital book collections.
The children's books that Jenny is sorting are mostly brand new and colorful – many in Kreyol, picture books and storybooks, for the youngest non-reader to the most advanced teenager. Wonderful! And from the moment we arrived this morning, a small troop of very curious future patrons has been happily trying out their new library. Five or six little ones – from about 4 years old up to 7 or 8 are busily moving the children's chairs around, exploring the learning game collection (another great discovery among the boxes) and eventually settling down with Jenny – who could not be deterred from this task for any reason – for a story time and chat. That these children so clearly have little else to do and nowhere else to go, that they are so enchanted (and enchanting) to be here for as long as we'll let them, that they relish the chance to clean the chairs or help mop the floor with energy and practiced skill – this is just more evidence of how valuable the library will be here. I glance up from my sorting and labeling, unpacking and arranging; there is Jenny, surrounded by children, all turning pages in their shiny new books, an older boy in fact is reading to his enthralled audience. Elsewhere Anny is scrubbing furniture; she and Besley are unpacking computersand arranging furniture.
So pass Friday and Saturday mornings. On both days, we begin to wrap up around midday, the whole group of 7 or 8 – staff, volunteer, translator Linus, Anny, Jenny and me returning to Kay Choucoun for lunch. There's a strategy behind this thoughtful and welcoming gesture of Jenny's – lunch for all each workday, a modest salad or rice and beans and some fruit or cookies. The talk is of the work so far, the tasks ahead and the larger questions of library policies, rules and procedures, motto and mission statement. Importantly, I am learning, this is the Haitian way (and also very French it seems to me). Everyone's opinion is solicited, everything discussed, reviewed, debated and discussed some more; in the end, everyone has ownership and is committed to the final decision. It's an approach that requires some patience, much cultural sensitivity and a lot of Kreyol; thank heavens for our essential liaison and cultural advisor, Anny Frederique!
After lunch, there are a series of visits and meetings lined up. In advance of our arrival, Besley has apparently scheduled almost every minute of Jenny's day. No time is wasted; every Sister Cities program gets attention. Music students, tennis players, Conseil members, itinerant artists, mural painters, furniture makers, a solar energy representative, local business leader Luquece Belizaire, and other community members arrive in succession each day for meetings, coaching, progress reports, assignments. We visit band rehearsal, tennis practice, hospital rounds and an English class. We attend a meeting of ODES (our SCEH counterpart in Deschapelle), where great appreciation for the library is expressed, as well as some impatience for it's opening; perhaps a good problem to have now that that day is drawing closer. Jenny offers a brief update on progress and plans, and even I am asked to comment, which I manage to do in my fractured French.
Monday, Sept. 7
We spend our last morning in the library putting tables and chairs in their proper places and setting up computers. Supplies are sorted out and work to be continued after we leave is organized and discussed. Finally, it's time to start putting books on the just finished shelves – in their proper order. And this is when I make an interesting discovery and experience the most satisfying moment of my work time in Deschapelles. For although it was apparent that Odverne, Wednise and Pleurette had been carefully noting the appropriate Dewey numbers for many of the books and labeling them accordingly, I now see that they haven't fully understood how the numbering system will determine their precise location on the shelves – a question that baffles many well-educated Americans with years of experience as library patrons. I soon find myself surrounded by the whole crew, demonstrating in French how the sequence of numbers and letters determines the order of the books as they listen intently, confer with each other, and start moving the books into place, one by one. Each book – its subject matter and number – is discussed by the group and a decision is reached. The process takes longer this way but it is a beautiful thing. There is learning going on and soon the whole group will know a little bit about every book in the library.
There is one last milestone to experience before this day ends. Luquece has offered to connect a generator temporarily to the library's electrical system so that we can return after dark this evening and see what happens when the lights are turned on. It's not the actual generator that the library will need nor the completed setup that will have to be installed, but a way to test the system and demonstrate the impact that lights will have in the library after dark – what it will be like for the children of Deschapelles to have a place to study, for the adults to have a place to read and write, and for the community to gather. It will be, as the library's mission says, a place "to enrich the lives of all, regardless of age or education." Let there be light at the Bibliothèque Communautaire de Deschapelles.
And so there is.
Katy Klarnet
Sept. 22, 2015
___________________________
Daphne Nielsen, an Essex resident, worked at the Hanger Clinic, a prosthetics facility at Hospital Albert Schweitzer in September  2010. Daphne is a physical therapist in Connecticut.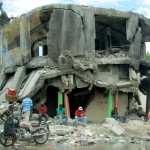 On Saturday, September 4, 2010, I left Connecticut for a two week volunteer stint at an amputee clinic in Haiti.   Prior to going I had gathered as much information as I could on the web, but did not actually know what was in store for me.  Doing volunteer work in a needy country had been a dream of mine for many years.  I remember being inspired by an article about the hospital ship, Hope, which I had read as a child.  My friend, Jenifer Grant, had spoken to me several times about the Hopital Albert Schweitzer (HAS) which had been founded in Deschapelle, Haiti in 1956 by her mother and stepfather, Dr. and Mrs. Lorimer Mellon.
Following the earthquake in Haiti in January of 2010, the Hanger Prosthetics Company, through their Ivan Sabel Foundation, founded a clinic at the hospital in Deschapelle to donate prosthetics to the many victims who lost limbs.  Jenifer shared with me the great need for physical therapists to teach the clients to walk on their new legs.  Once I made contact the wheels turned very quickly and I was on my way with the gift of a ticket from an organization called Physicians for Peace.  Deschapelle is located about 70 miles north of Port au Prince in an area that was not affected by the earthquake.
On my first day in Haiti, which was a Sunday, I was invited to go on a home visit to see the living conditions of a fairly typical Haitian family.  Our goal was to assess the needs of a quadriplegic patient who was being cared for at home by her family.  The young woman was in her early twenties with a partner and a young daughter and had been injured months earlier in a motor vehicle accident. She had been sent home the day after the accident in spite of her broken neck.  In Haiti there is, most likely, no good outcome to a patient with her level of injury and patients are sometimes sent home to die with family.  Her family took her back to the hospital after several days and she was airlifted to another hospital where she underwent an unsuccessful stabilization of her neck followed by extensive rehab primarily to teach her extended family how to take care of her.  She had made a number of phone calls to her previous PT in Port au Prince to say that she was not doing well at home and wanted to return to the hospital.  The rehab coordinator from HAS was joined by a PT who had treated the client in Port au Prince, myself, and the other PT who was working in the Hanger Clinic.  The family lived in two small earthen huts with dirt floors and corrugated metal roofs. There were no windows, only a door and a space between the walls and roof to let a little light into the sleeping area. There was no electricity, running water, or screening to keep out flies.  The cooking was done over an open fire in the yard and laundry was accomplished in washtubs.  There seemed to be many family members who lived in these two very small buildings. The client had a deep, infected sore which needed treatment.  She was transferred back to Port au Prince following our visit for further treatment, but the long term prognosis is poor. It was a very sobering look into the reality of life in Haiti.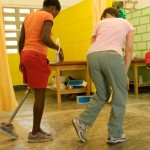 I began working in the Hanger Clinic the next day.  The clinic was staffed by a receptionist, two invaluable translators, five prosthetists, four prosthetic technicians, and two physical therapists.  The head prosthetist will stay in Haiti for three months while the other prosthetists and the PT's  mostly come for two week periods.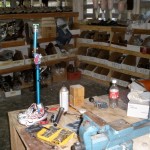 I worked with another PT from Virginia the first week and one from England the second week.  The Haitian people speak Kreyol which is similar to French.  My long ago French lessons came in handy, though I was at sea when I got an answer to most of my questions!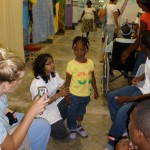 Most of our clients came from Port au Prince and had been casted for their leg or legs a week prior to arriving for treatment.  This delay allowed the workshop to fabricate the limbs so that they were ready to be fitted on arrival.  While receiving PT and adjustments the clients are housed close by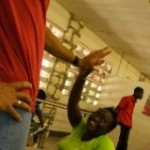 I had been told that the clients I would see were primarily young and healthy and that I would be surprised by how quickly they adapted to their prosthetics.  Surprised does not begin to cover my reaction – awed would be more like it.  The Haitian people are incredibly strong both emotionally and physically.  I found their resilience in the face of all they have been through truly inspiring.  The Hanger Clinic was a very happy place to work as we were able to help people get back on their feet and get on with their lives.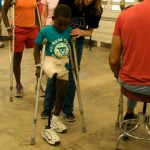 It was wonderful to be able to work so closely with the prosthetists who were on-site to make any needed adjustments so that there was no delay in treatment.  Many patients were ready to take their new legs home in three to four days.  They worked very hard to get used to wearing their prosthetics, often getting up to try again after I had told them to rest for a while.  The clients also critiqued and encouraged each other to succeed. I had one fifteen year old girl with an above the knee amputation who got her new leg and never needed a bit of instruction.  She put on the leg, got up, and walked across the room without a cane or crutch and climbed the stairs!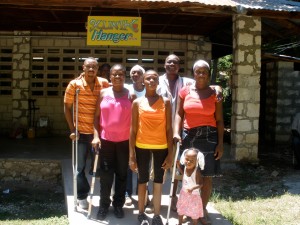 We saw clients from age three to seventy three, the majority of whom were quake victims.  The others were accident related and a few were diabetics.  There are many motor vehicle accidents in Haiti with multiple people on every motorbike and many TapTaps, all going much too fast for the difficult roads.  A TapTap is a sort of bus which is a pick-up truck with seats welded to the truck bed and usually a canopy to keep out the sun. The whole vehicle is brightly painted in a kalaidescope of colors.  One 'taps' on the side to get the driver's attention for getting on and off.  If there isn't any more seating room, people often get on the roof or hang off the side.  When there is an accident, a leg that would be saved in our country is often lost due to infection or some other complication.  We have all read about the number of people who lost limbs due to gangrene following the quake.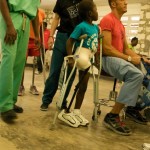 The visiting staff was very well taken care of while at HAS.  I was picked up at the airport in Port au Prince on arrival and housed on the campus at HAS.  The hospital is sited on an old Standard Fruit plantation and is dotted with beautiful stone cottages that house many of the staff and a pool to cool off in at the end of the days.  Over the years HAS has added a great deal of housing for permanent and visiting staff.  I lived in Alumni House with visiting doctors and the other PT.  We had two wonderful Haitian women who cooked three meals a day for us, did our laundry, and even ironed my scrubs.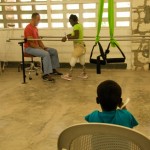 In Haiti everything is spicy – even the peanut butter.  We ate mostly some type of stew which was delicious but not necessarily recognizable.  There were often bone shards from inexpert butchering leading a visiting Swiss doctor to joke that perhaps we were eating roadkill!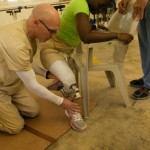 The weather in Haiti is unrelentingly HOT and humid.  Most people carry a small rag or washcloth with them to wipe the sweat off their faces.  Carrying drinking water is a must.  The week before I arrived the Hanger Clinic had gotten a huge floor fan which was a favorite of everyone and had a place of honor in our gym.  Many afternoons there was a cooling thundershower, some of which were quite spectacular in their fury.  The heat returned quickly as soon as the sun came out again.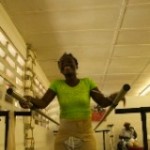 Coming home after two weeks in Haiti was strange.  In many ways I felt like my being there never happened as I quickly felt swallowed up by my everyday life here.  I found myself in Stop and Shop two days after I got home thinking about what my clients might feel if confronted with the excess that we have available every day.  I felt overwhelmed.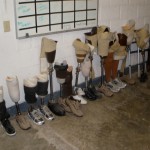 The contrast of the intense poverty there to how we live is enormous. I feel so lucky to have been able to go to Haiti and help a tiny bit.  As I think is usual with this kind of work, I got so much more out of it than I was able to give.  I hope to be able to go back to HAS in the future and continue to develop a bond with the people of Haiti.
To learn more about the good work of Hospital Albert Schweitzer, please click here.
*****************************
In December 2012, Mary Lee Blackwell, professional writer and photography hobbyist from Old Lyme, CT, visited Hôpital Albert Schweitzer with Hospital Albert Schweitzer founding family member Jenifer Grant of Essex.  Mary Lee is also a Director of Sister Cities Essex Haiti.
Sister Cities Essex Haiti is in full swing. The organization continues to inspire citizens to get involved; to make a difference. And oh what a difference they're making. There are several programs that have been initiated and continue to evolve and garner support and enthusiasm from both communities. I was fortunate to be a part of the newly launched sports program on my first visit to Haiti in December. The program focused on tennis and, with help from American tennis pro John DeLong and the Deschapelles Tennis Committee, met with great success on many fronts.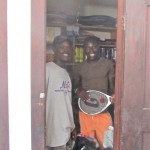 One obvious objective was to teach tennis to both experienced and beginner players. This was met with more challenges than you might expect; there is little sense or experience with organized instruction, there are language discrepancies, cultural differences, and, facility and equipment shortages. In Haiti most children are never given an opportunity to attend school (the three hundred dollar annual tuition is prohibitive for most families) and the majority of people do not have steady work. Without these structured experiences, Haitians find that the concepts of waiting in line, taking turns, focused listening, and instruction are novel and take some getting used to.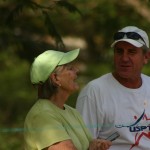 Our French is a bit rusty and our Kreyol is essentially non-existent but the eagerness with which the Haitians help overcome the language barrier is heartwarming and at times laugh-producing. As you might imagine, much is still lost in translation. Sports are a universal language unto themselves and as such many barriers- including language- evaporate in the quest toward a common goal. It is hoped that tennis, and other sports that will be cultivated in this way, will become feeder programs. It is possible to develop collegiate or nationally worthy players affording a potential vehicle toward education and overall betterment.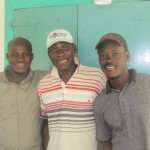 And there are benefits for the coaches too. It provides an opportunity for them to take ownership, gain self respect, a sense of responsibility and pride that comes with the task of teaching. After DeLong's departure, the tennis program was left to the Haitian coaches to run. DeLong will keep in touch to help iron out any remaining kinks and return periodically to provide refresher clinics.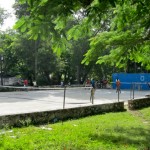 Tennis was taught on the one and only tennis court in Deschapelles which has been there since the early 1900s when the Standard Fruit Plantation inhabited what is now Hôpital Albert Schweitzer (HAS.) The tennis court was installed for managers of the plantation. It remains on the HAS property and is available for use by the community of Deschapelles. Many tennis balls and racquets were donated by area Connecticut individuals but the bulk (35 youth racquets) were made possible with help from Gamma Tennis racquets. Click here to learn more about the SCEH Sports-Tennis Program.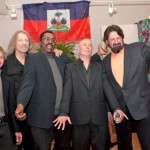 The projects that have been initiated, which have all been identified by the villagers of Deschapelles, include a library, a music program, an Early Education Teacher Training Project and a sports program. Recently the second annual Have a Heart for Haiti fundraiser was held at the Left Bank Gallery in Essex. The event which featured a Haitian band, an appearance by Kathy Pfeifer, author of Haiti; Footprints in the Heart, several photography exhibits, Haitian art and crafts sales, and Haitian food and drink, raised over $30,000 for Hôpital Albert Schweitzer and Sister Cities Essex Haiti.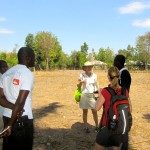 The library, the first big undertaking by the collaborative Deschapelles and Essex teams, has an official site since the February signing of a ten year lease for property in Deschapelles where the much needed library and community center will be built. Plans for the structure are being designed and construction is slated to begin within the year. Click here to learn more about the SCEH Library Project.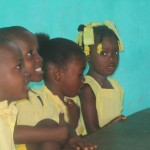 The Early Education Teacher Training Project, while still in the early stages of development, hopes to enhance existing curricula, introduce hands-on manipulative educational materials important for the cognitive development of very young children and provide a platform to learn from one another regarding teaching strategies. Click here to learn more about the SCEH Early Education Teacher Training Project.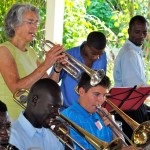 The music program initiated in the summer of 2011 continues to foster an already rich musical heritage. And the tennis program is well underway with eager Haitian coaches modeling sportsmanship and dedication which in turn encourages ownership, pride and a new found sense of purpose. Click here to learn more about the SCEH Music Program.
If you would like to get involved in Sister Cities Essex Haiti in any small way, please get in touch with us at www.sistercitiesessexhaiti.org. Because if you think you are too small to make a difference, try sleeping in a room with a mosquito!
The above Vignette also appeared in the Spring  2012 edition of  Essex Events.
 **************************
Reflections from Patricia Hurley
Patricia Hurley was the "Maestro" of the SCEH Music Project.  She is a founder of the Community Music School in Essex, creator and conductor of the New Horizons Band, trumpeter, and spent her career teaching music to youth and adults.
My Haiti Experience: June, 2011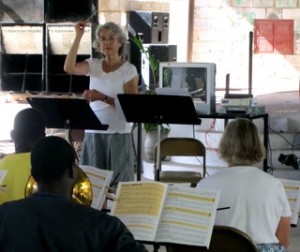 I tried to prepare by reading the biography of Jenifer's mother and stepfather, "Song of Haiti", which provided  background on Jenifer's life as well.  I had supported the Sister Cities Essex Haiti project and was aware that several Essex people had begun projects in Deschapelles, including establishing a library, but was a bit dubious about the music project: that is, until I met the musicians……  To continue to share Paddy's reflections, please click here. She concludes by saying: I have to say that the week in Deschapelles was one of the most rewarding of my teaching career.  The experience of working with talented, eager and grateful musicians in what some often consider as a third world county was unique, and I think that we all came to respect and appreciate each other's gifts through the music that we shared.  We urge you to click here to learn more!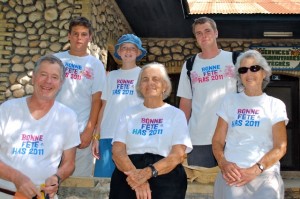 ******************************
Vignettes from Jenifer Grant, June 2011
Jenifer is a founder, director and Secretary of Sister Cities Essex Haiti.  She is also a member of the Board of Directors of The Grant Foundation, which operates Hospital Albert Schweitzer, and the daughter of Gwen Mellon and stepdaughter of Larry Mellon, the founders of Hospital Albert Schweitzer.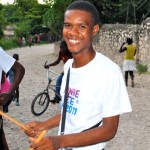 Stéphane Thierry Jn. Louis, 21 years old, is a percussionist.  He joined us as snare drummer.  We quickly observed that he needed to hold the music in one hand, close enough to see it.  We managed to get him an appointment at Hôpital Albert Schweitzer with the Ophthalmologist.  We learned along the way that he lived in Port au Prince until the earthquake when he moved to Petite Riviere, just across the Artibonite River from Hôpital Albert Schweitzer.  We did find out that he still has family in Port au Prince, but the full story of why he relocated to Petite Riviere, following the earthquake, like so many in Port au Prince, is yet to be learned.  Despite his difficulty in seeing the music, once he read the beats, he then proceeded with his good memory to put down the music and play with both hands.
To read more of Jenifer's Vignettes about the Deschapelles musicians, please click here.
Serendipity in Boston, Massachusetts
By Louisa Smith
Louisa Smith is a college student in Boston and also the daughter of Terry Smith, the Chair of the Sister Cities Essex Haiti Library Committee.  The following is a note she wrote to her Mother on Facebook.
"This week while in a cab on my way to dinner in Boston I was having a friendly conversation with my cab driver. He commented on my name and how it was the French spelling, I could tell he was from Haiti based on his accent and asked him where he lived before moving to Boston. We got into a conversation about the aid being given to the country thru organizations in the US and the corrupt government (not your typical conversation with a cabby, normally its about the Boston sports teams). I only so much as mentioned your involvement with a charity outside of Port-au-Prince. He went on to talk about the one charity he knew and how they were building a "community center/common ground for people in the neighboring towns to go read and have a place to learn" I asked him what the name was and he mentioned "Sister cities". At that moment I have never been more proud of my mother and realized how large of an impact she and Sister Cities Essex Haiti has on a community in a different country. It was so amazing to hear him speak so highly of a charity that many Haitians haven't even heard of. Anyways, proud of you mom! Keep up the good work, you are truly an inspiration to me. "
My Road to Building a Library in Deschapelles
By Terry Smith
Terry is a Director of SCEH and Chair of the Library Committee.  She works closely with the ODES Library Committee, the architects and construction managers involved in the project, and has made several trips to Deschapelles.
Haiti has often been described as an impoverished third world country whose people can never get a break and are perhaps "cursed".  Labels like "corrupt, uneducated, untrained and even dangerous " abound.  The exotic allure of voodism adds to the picture of a country mired in something almost pagan.  Haitians are perceived as victims who have no control of their destiny and must rely on outsiders to help them solve their problems. I knew nothing of Haiti except what I read in the works of the Haitian writer Edwidge Danticatt and learned in the news of the country under the regimes of Papa Doc and his son Baby Doc as well as the "hapless" Aristide. It was not a country that I particularly wanted to visit. After the earthquake, my perceptions did not improve, but in fact worsened, as I looked at photographs of the devastation and its aftermath, particularly the endless blue tarped tent cities one of which was spear-headed by the Hollywood actor Sean Penn. Haunting images of people suffering from loss and despair were everywhere as were stories of hardship and crime. I was astounded by the amount of aid that seemed to pour in and the number of people who went to help. Now some would argue that the photographs exaggerated the reality, and that aid often complicated the situation by taking valuable resources such as housing and food away from the Haitians,   Recently, in fact,  the current President of Haiti requested that  Haiti needed a break from all the good intentions. And that Haitians were pretty good at taking care of themselves.. Still, there were and are many problems. Why then in January of this year was I on my sixth visit to Haiti in less than 2 ½ years?
It all started in the spring of 2010. I was vaguely cognizant that St. John's Church in Essex had an active relationship with Hôpital Albert Schweitzer and that a woman named Jenifer Grant was active in encouraging interest in rural Deschapelles where the hospital is located but I knew little more.  My neighbor and friend Kathleen Maher asked me to go on a walk so that we might discuss a potential project in which I might be interested. She was part of a newly formed group called Sister Cities Essex Haiti which had been organized in response to the earthquake by a group of concerned citizens including the town's selectmen. Kathleen knew that I had been very involved in the renovation of the Essex Library serving at one point as the Association President and have a life-long commitment to books and libraries. I believe strongly that libraries play an integral role in the health and well-being of a community and provide a place for life-long learning. She also knew that my life had recently included a few bumps in the road and I was looking to divert my energy into something new.
Her proposal was simple. Join the group to help with their first project – the conversion of a cattle barn into a library in rural Deschapelles, Haiti.  The building was structurally sound and only needed a new roof. I would help with the renovation and what I thought was needed based on my experience. We would be working with a group in Deschapelles ODES (Organization pour Development Economique et Social) whose Haitian members had gathered together to work on ways to improve the lives of those who live in and around the community. The library was something they thought would really help the community.   The reality of the project quickly became complicated but by that time I was committed.
My first trip to Deschapelles was less than six months after the earthquake.  Arriving at the airport, I was amore than a little anxious heightened by concerns from my family and even the cautionary advice provided by my fellow travelers.  I knew Port au Prince would still be suffering the aftershocks of the earthquake but I had no idea that I would be greeted  by what I can only describe as overwhelming chaos. At the airport, luggage was piled randomly and people seemed to come from everywhere to "help".  I was grateful that I was with others who knew what they were doing. In the van transporting us, I viewed buildings with no outside walls and floors tipping precariously, streets overcrowded with cars and debris and above all people everywhere.  To see the Presidential Palace essentially flattened heightened the sense of unreality. At dinner that night, it was like a molten mass of people had emerged onto the streets, the only light coming from outdoor cook tops. The next day on our journey out to Deschapelles, the van seemed to narrowly miss pedestrians who hawked their wares and walked with all sorts of merchandise in metal baskets on their heads. I soon became attuned to the constant blare of horns warning an on-coming truck or a person to move out of the way.
We arrived in Deschapelles in about three hours. Kay Mellon,  (Kay is a Kreyol word for house) where I was privileged to stay on my first visit, is the former home of Jenifer's mother and step father, Gwen and Larry Mellon, who had founded the hospital in 1957, I had imagined an exotic Caribbean mansion overlooking the sea but in reality the house was an understated but elegant home and was surrounded by mountains rather than the sea.  I soon learned that I was the exotic "blanc" in a country where many people especially children were unaccustomed to seeing a white person. It was startling the first time a child started to cry at the sight of me.  But I also soon learned that a "Kouman ou ye?" or "how are you" was greeted by a beautiful smile and that a few words of Kreyol changed everything. I also learned that in Jenifer's 50 years of visiting Haiti she had made many friends who recognized her real love for them and their country. Kathleen, who had already visited Deschapelles many times as part of a micro financing project in which she Jenifer were involved, was also greeted warmly and embraced with true affection.  Still, everything took time for me to absorb. There was no central town but numerous stalls lining the main corridor or road to the hospital. The roads were dirt and most definitely not smooth. Cement blockhouses were built behind the main road and the streets leading off it. Some houses were in progress as people earned the money to pay for construction, others were behind high walls and difficult to see, and some were what only can be described as simple shacks. Deschapelles is not a town created by city planners but the evolving needs of its residents. Garbage was a problem at least to me and I was amazed at how indifferently people seemed to regard tossing refuse into the streets.  I learned also that my "diet cokes" were not readily available and the food while delicious was not something I always recognized.  But as the days went by, I felt increasingly enthralled by the people and a world so different than my world back in the States. Unfortunately, while I also saw that the cattle barn was not quite as bad as I had expected;  we learned a few months later that it was not going to work. Thus began the real work on the library project.
The need for a library in Deschapelles is immediately apparent. Deschapelles is a town of about 14,000 people. It is located in the heart of the Artibonite River Valley bordered by mountains to the north and south. From the perspective of an outsider, the majority of the people in Deschapelles live marginal lives relying primarily on subsistence farming. A few are employed by the hospital.  Some have successful businesses and are the leaders of the community who are fully aware of where improvements are needed.
Only about 40% of the children in Deschapelles attend school and the schools that they attend are often ill equipped to provide students with a meaningful education. A classroom may have only one book. Lessons are in French based on the traditional French rote system of learning and do not take into account that Kreyol is the language spoken by most Haitians.  Furthermore, there is no library in or near Deschapelles and no location where children are able to study in a quiet, protected environment. Because few homes in Deschapelles have electricity, students congregate under streetlights around the Hospital to study at night, sitting or standing on the ground, vulnerable to malaria-carrying mosquitoes. Haitians value education and are eager to increase their knowledge. Access to books and the ability to study can provide a path to a better life and a way out of poverty.
A library would provide a place where residents would be able to borrow books in French and Kreyol as well s English both for educational purposes and for pleasure.  It would provide a place for students to study in a well-lit screened-in space. There would be a children's section where children could sit with a family member and have stories read to them. Computers would be available to both adults and children for education and research. The building would provide a much-needed place for workshops on educational, environmental, cultural and technical topics. It would have demonstration gardens, a well with access provided to the community and composting toilets. Most of all, it would provide opportunities for obtaining life-long skills that are not even a dream for many Haitians.
On every subsequent trip to Haiti I would arrive eager with anticipation, but aware that progress needed to be defined with different measurements than those an American might expect.  The construction of a library might be deeply desired by the community but in a country where the majority of people simply struggled to survive, it was not always a priority. Furthermore, the Haitian culture and people are different than mine, and I had to learn to be respectful of our differences as well as our commonalities. I felt privileged to be working with people who understand that working with our Haitian friends and neighbors on what they wanted and how they wanted to do it, albeit with our input and support, was a far better path to success than working high in the treetops with some grandiose plan formulated by outsiders.
Finding a new location for the library took many months and more than a few disappointments as land for sale is not readily available and existing buildings were problematic. We were fortunate that a Haitian-American with a deep commitment to his birthplace was willing to lease a well-situated piece of land to us. We were also fortunate that Hope Proctor, a local Essex resident and architect, came forward with a commitment to design the building. Travelling to Haiti, working with ODES members particularly the ODES Library Committee and speaking frequently with Haitian architects and builders, as well as researching alternative building structures including container buildings, Hope designed a building to reflect Haitian architectural styles and incorporate traditional Haitian construction methods. The building has been engineered to withstand earthquakes and hurricanes. It is designed to maximize the use of locally available materials using concrete blocks and design elements, which include "fer forger", a form of traditional wrought iron.  It is a simple but elegant, building, which meets the needs of the community and only minimally impacts the environment.  It will incorporate solar power and other green technology. It is also being built by local residents and thus contributing to the financial well-being of the community.
We selected an experienced local Haitian builder, Luquece Belizaire, with whom we have a long-term relationship to build the library. We also hired John Chew, an American, who had helped manage the construction of the Partners in Health Hospital in Mirbalais and who has access to wholesale materials to oversee the project and act as our engineering link.  And we had his wife Anny Frederique, a Haitian American .who bridged the gap between our group in the United States and ODES . She coordinates our efforts in Haiti and understands the nuances necessary to get the project done. She is also working with grant organizations in Haiti along side ODES.  Finally, we have Besly Belizaire, who makes sure that we receive all the information we need including financial reports and photographs of the library under construction.
As of today, the foundation for a security wall has been built, a well has been dug, a pump house and guardhouse are under construction and work has begun on the library building. We have raised over $75,000 for the project but are aware that at a cost of $150,000, we need to raise additional funds. We are looking into grants and were recently blessed to learn that our partner organization in Haiti has been  awarded a grant from the DIGICEL Foundation (the largest cell phone provider in Haiti) in the amount of $36,000. This is the largest grant available and is normally awarded for the construction of schools. This grant not only substantiates the validity of our project, but also reaffirms that our Haitian partners understand the importance of local sustainability. We are in the process of seeking additional support and welcome any suggestions. We are grateful to our local Tri-town International Rotary, which provided us with a grant for a 1000 books, and our local schools, which also raised funds for the project. Local resident Brenda Floyd and her son Logan have produced a wonderful film "Welcome to Deschapelles, Our Sister City" to introduce people to the community. We are working with Haitian organizations such as FOKAL (Fondayson konesans ak Libète or Foundation for Knowledge and Liberty) whose library division is the equivalent of our American Library Association, to ensure that our staff is well trained and the library has a good set of administrative and organizational guidelines.
Arriving in Port au Prince in January I was impressed about how much progress had been made in the city although much more needs to be done.  And while I arrived in Haiti with my usual tempered hope, I was amazed at how everything came together and how much we have accomplished. In contrast to many of the recent articles criticizing foreigners efforts in Haiti especially those of large government entities and NGOs  (non-government organizations), we are and will be successful. While waiting for construction of the library to begin, we developed a music program, a tennis program and an early teacher education program all of which show our commitment to the community.  As a result of the commitment of the people in our organization and the collaboration between SCEH and ODES , we are well on our way to building what may be a model library.
We have work to do but the community will soon have a library. And in my journey down the road, I have met many wonderful, sophisticated and educated Haitians who desire nothing more than the best for their country and whose friendship and insight I truly value. I have travelled with an exceptional group of people who have become like family.  And I have gained confidence that sometimes taking small steps down the road allows one to accomplish more than one could have imagined.  I am grateful that I am part of the effort to make this world a better place.
Terry may be contacted at 860-767-7119 or ETPSmith@hotmail.com
 April 23, 2013