By: Jenifer Grant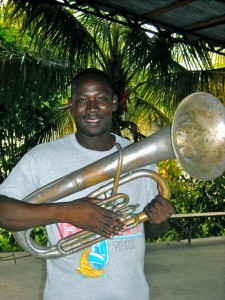 One of my missions on my recent trip to Deschapelles (Oct 16-Oct 22, 2011) was to meet with the Deschapelles Fanfare Band.  A newly formed SCEH Music Committee realized that we had not had the opportunity to sit down with the Band following the concert, and we wanted to get more information from them, in order to continue to be better collaborators.
It was my great pleasure to meet with them all for about an hour when I had a chance to ask questions and also listen to their desires.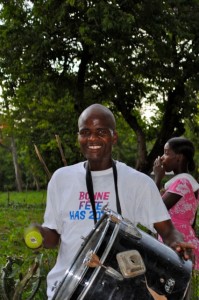 The instruments we bring belong to ODES.  The musicians must sign a contract acknowledging that ownership and agree to be good custodians of the instruments.  If anyone ceases to be a member of the band or if they leave Deschapelles, the instrument will be returned to ODES.  This assures that the Deschapelles Fanfare Band will always have instruments for their band even if the players go elsewhere.  I had the pleasure of reviewing the contract, which a committee of three had drafted.
How did they learn to play?  Most had had some instruction in either a music school or in school itself or from someone who played the instrument and was willing to teach.
How did they learn their songs?  They learn them by listening to other Fanfare Bands, but mostly by solvege, Leonce Pierrestyle, a talented trombonist, is able to write the notes down when he hears a song and then the others can play the song in their key.   They practice as a group and say the practice daily.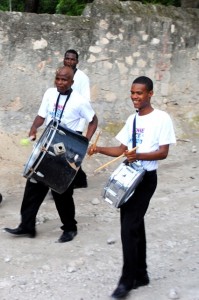 Acknowledging our respect for their talent, I asked them "where they wanted to go" with their music and how we could help them.  They are are all eager to improve their individual skills.  What they would really like to do is to broaden their styles, which would put them a step or two above other Fanfare Bands; Salsa, Bossa Nova, Blues and Jazz.
They would love to have a guest artist come to play and then follow with discussions.  And they liked the idea of inviting other Fanfare Bands to come to Deschapelles to have a Fanfare Jamboree,
They asked me to express their deep gratitude to all those responsible for the collaboration and requested that we continue to collaborate.