Who would have dreamed that the first efforts of Sister Cities Essex Haiti's music project in 2012 would result in a first-ever performance in Deschapelles of a classical chamber concert with 6 musicians from the Ecole de Musique from Ste Trinité in Port au Prince? And to a SRO very enthusiastic audience! Castillo Saint Armand, Deschapelles resident, whose passion for the clarinet quickly outgrew the skills of the Fanfare Maestro Abner Achoule, continued to study on his own with additional music brought from the US. He attended the Ste Trinté Music Camp in nearby Cange for two successive summers and is now studying in Port au Prince with the first clarinetist in the Ste Trinité Philharmonic. He energized five of his friends from the school to travel to very rural Deschapelles to actually make this wonderful concert happen!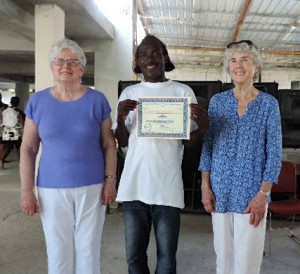 This was a highlight of the second Sister Cities Essex Haiti music week in Deschapelles this past April. Now, three years after our first trip working with the Fanfare Band, Maestro Abner Achoule has trained 20 additional musicians to be able to read music and play as a band. Both the Fanfare Band and the Beginner Band were delighted that Maestra Paddy (Hurley) would return, bringing music with requested "styles" such as jazz, swing, Bossa Nova. Ann Lander joined Paddy and myself. In addition to playing with the Old Lyme Band Ann also serves as the librarian for all their music, and her skills in that area were greatly appreciated as we juggled "feuilles" (sheets) of music between the two groups. We found that the Beginner Band had been taught excellent skills by Maestro Abner especially in reading music and playing as a group. A rigorous schedule of teaching two groups new music for a short week were demanding, but at the end of the week we delighted to be able to perform a joint concert showcasing the two groups' new music and having them play one piece together – a first !
This July three additional promising musicians, identified by Paddy and Ann as ready to benefit from more rigorous instruction, will attend the Saint Trinité music camp.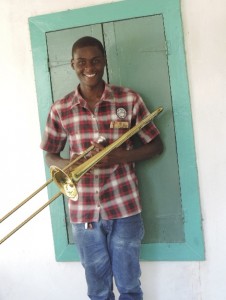 Participating in Music Week in Deschapelles gave the three of us special opportunities to renew friendships, develop new ones, and create music together. To know that our project has inspired one musician to persevere and follow a classical route, that it has inspired Maestro Abner to teach so many budding musicians so well, and to be able to have three of the new Beginner Band qualify to attend the outstanding Ste. Trinité Music Camp is further than we ever imagined in 2012.
SCEH is immensely grateful for all the support that we have received from friends in Essex and beyond who share our desire to be able to respond to the requests from our friends in Deschapelles to enrich their lives.