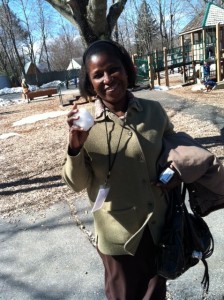 Sister Cities Essex Haiti was delighted to be able to welcome Kettelie Petit-Loute to Essex March 4-5, 2013.  Kettelie is the Director of Ecole Flamboyant, a school in Deschapelles, Haiti, and is also a pre-school teacher.  She participated in the SCEH Early Education Teacher Training project in March of 2012, and made her school available for the week long workshop.  Jenifer Grant arranged for Kettelie to visit several schools in Essex on March 4th and 5th.  Essex Pre-School at the Essex Congregational Church welcomed her for the early part of the morning which included the wonderful music program with Dossie Laudon.  From there Jenifer and Kettelie visited Schoolmates, located at Bushy Hill which takes advantage of its local to create educational materials from nature.    Kathleen Maher, SCEH President, hosted a lunch for Kettelie and members of the SCEH Executive Committee.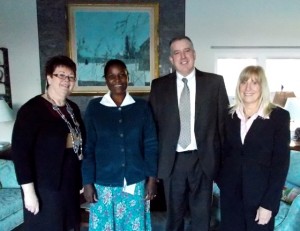 Ruth Levy, Superintendent of Region 4 Schools, Joanne Beekley, Assistant Superintendent, Scott Jeffrey, Principal of Essex Elementary, SCEH Educational Committee members Jane Syme and Sue McCann met Kettelie at tea at Jenifer Grant's house.   On Tuesday, Kettelie was welcomed by Scott Jeffrey and classes of the Essex Elementary School.  In the afternoon SCEH Education Committee member Jeny Sarwar took her to visit the Montessori School in Old Saybrook.  At 2:30 Jenifer and Kettelie dropped in on the drop-in reading hour at Essex Library.  Coincidentally, the drop-ins that day were all from Essex Pre-School and were delighted to reconnect with their new friend from Haiti.
As an educator, Kettelie had long yearned to be able to visit schools in the US. Her training in Haiti consists of having passed the Rheto and Philo levels (required to graduate from secondary school) and a 4-year Teacher Training Program in Port au Prince.  She has returned to Haiti with many ideas to augment her already very fine program and will share her new found knowledge with her fellow teachers who participated in the SCEH Early Education Teacher Training Project.
Kettelie's visit was made possible by Ted and Becky Crosby in Old Lyme, who have established the Crosby Fund for Haitian Education.  The organization supports students in the Deschapelles Haiti area who have been identified as outstanding students and have demonstrated need for scholarships.  Kettelie serves on their Haitian Advisory Board and is also in charge of their primary school scholarship program.  For more information about the Crosby Fund for Haitian Education, please click here.