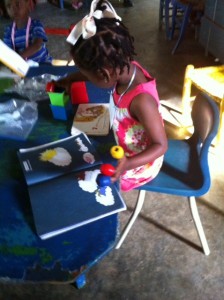 Using newly donated books and a manipulatives workshop was held in March 2014 with 22 children and more than 30 pre-school teachers who had attended the second workshop in August 2013. Because some of the pre-school teachers did not seem as comfortable using the manipulatives and reading to children in the classroom as others, the Deschapelles teachers suggested that Vera Dowell, Diane Huot and Jenifer Grant should model those skills in a 2-hour "camp" for 3,4,5,6 year-olds in a school setting.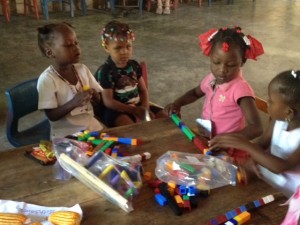 We welcomed the children letting them choose manipulatives and books already set out on tables. After a period of "discovery," we did other activities and then focused on using materials, especially Unifix cubes and "found materials" for math exercises, such as counting and simple addition, We ended each 2-hour session by reading to the children in French or Kreyol. The Haitian teachers, as observers, were encouraged to take note of different children, how they adapted, and how they became more involved in the use of the materials. After the two hour "camp" session we met with the teachers to discuss the teachers' observations as well as other relevant academic matters.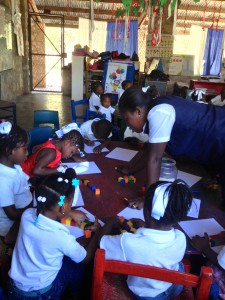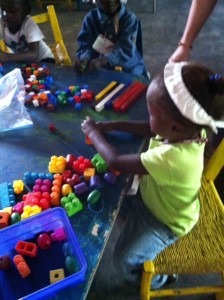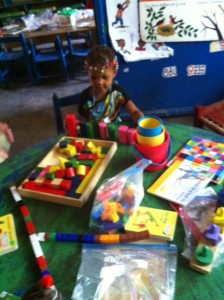 As the week progressed, we integrated the teachers in "morning meeting" as well as outdoor or recess activities with the children. We reiterated our goals several times: that children should have the opportunity to explore appropriate hands-on materials of their choice upon arrival at school; that hands-on materials are excellent to use for teaching of math and other concepts at lesson time; that children can take responsibility for putting the materials into separate containers and putting them away; and the value of reading to children in the classroom.
We encouraged the teachers to observe how the children "explored" without adult oversight. We encouraged them to observe a couple of children over a period of a few days to see how they developed their interests and their skills. We modeled and stressed the use of materials, especially unifix cubes and also "found objects" such as rocks, sticks, bottle caps, for mathematics. We are optimistic that all the teachers now have a better degree of comfort in using the materials they have in their classrooms.