On April 22, 2018, two presentations were made about visits relating to robotics at the library and education in Deschapelles.
Robotics:  Valley Regional High School students, Rocket Otte, Patrick Myslik and Sam Paulson, traveled to Deschapelles in August 2017 with their parents. They led a week-long workshop with the newly formed Club Robotic de Deschapelles at the library.  Rocket, Patrick and Sam described their experiences and were delighted that the Club Robotic won second place in the country-wide robotics competition in March 2018!  They plan to return to Deschapelles to continue their work at the library.  Rocket even plans to take a gap year to research the possibility of installing solar power at the library.  To learn more about the robotics workshop, click here.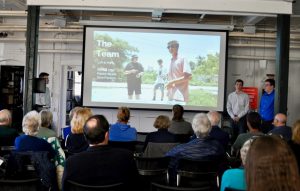 Education:  Olivia Henrikson presented a short documentary on education that she and Gabe Vasquez, classmates at Crossroads School in Santa Monica, CA, created for their senior project when they traveled to Haiti in 2017. To view the documentary, please click here.