(with introduction and comments from Terry Parkinson, SCEH Vice President and Chair of Library Committee)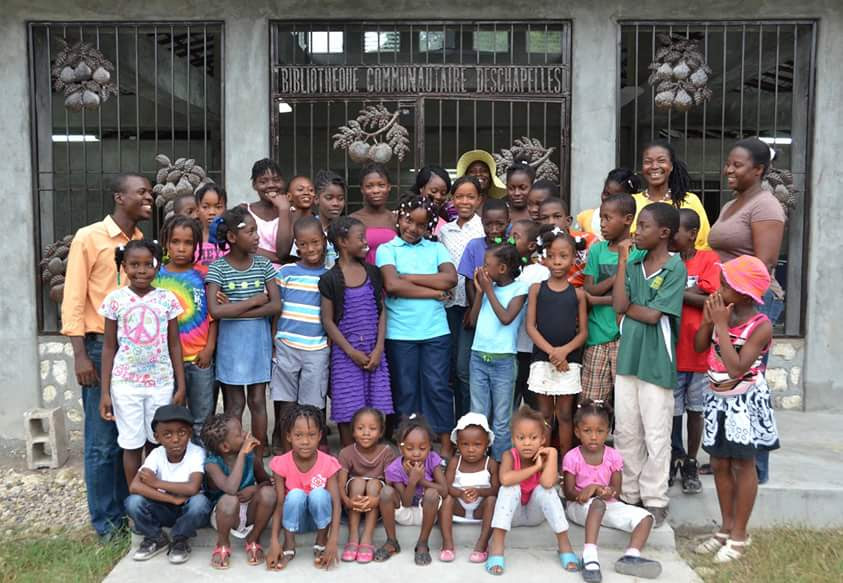 Life in Haiti is most definitely challenging, and, as I write this, the future of Haiti is uncertain, although a group of citizens is working towards an accord that will reset the dynamics of Haiti. Whether the United States needs to intervene is open to debate. Intervention in the past has not solved Haiti's problems and often exacerbated them. As an organization, SCEH has worked with the residents of Deschapelles to establish programs needed and wanted by the community. The programs have been developed hand in hand with the community. The long-term goal is for the programs to be run entirely by Haitians with minimal financial support from us.
While Deschapelles is 2 ½ hours outside of Port au Prince, where most of the turmoil is taking place, and while the community is relatively calm, it is dealing with the ramifications of the crisis. The words of Besly Belizaire, the administrator of the Deschapelles Library, (Bibliothèque Communautaire de Deschapaelles or BCD), passionately describe why the library is so important to the community. (Besly's words are in italics)
The situation in Haiti causes a lot of damage in our lives, but one of the biggest harms it does is especially to the young ones. It makes us stressed, so much that we feel the only decision to make is to leave the country, and some people even think of killing themselves.
I always remind the staff, and I want them to always understand that there are situations that can be an advantage in their lives.
I always teach them and let them know that they are the masters of their destiny, the people whom they rely on for work could also lose that opportunity and that they must be ready for any possible outcome that life will bring.
I always stress to the team the importance of their work – the work they do is in the life of every young reader or in the life of every person who comes to the library is of utmost importance and that the youth, too, will see the importance of their work.
Work is something that makes a person autonomous, it makes you know yourself better, and if these moments don't make you fall, then you know that you can be a total person in life. Take responsibility, even if you are not paid all that you need to fill the gaps in your lives, nevertheless they will still know the importance of work. There is a Haitian proverb that says, "Best suck on a chicken bone than a stick."
I always advise them on how they should work to satisfy their employers and make them proud can put their conscience at peace even if they are not satisfied with what they are paid as the cost of living is going up and up, but I always teach them that life cannot stay like this forever, and they must always welcome the readers who come to the library because, without the library users, it would shut down.
The biggest challenge I face every day is getting young men and women to keep believing in themselves, either in the Bibliothèque Communautaire de Deschapelles or on the streets' setting, or in the computer school, too. I do this because I see that they have all lost hope, and they don't believe that there is something positive left for them to do anymore.
I still take myself as an example. For instance, thanks to the support of BCD, we set up a computer school where I teach them computer skills. So tomorrow, they too may be useful to their country and the young people around them.
I am always looking at the number of young men and women who need to learn computers now because they have not had the opportunity to go to university to learn this. There are times, even though we have 18 computers, there are people who are on a waiting list to get onto the computers because there are too many people who come to do homework.
I always wish our young people to be courageous. I know they are suffering, but seriously, they are getting stronger, the moment will make many of them stop taking life for granted, and if they want to move forward, they must prepare themselves today.
—–Besly Belizaire
Besly's words may be difficult to read, but they reflect the reality of his community. The wonderful thing is that computer skills will provide opportunities for people in Deschapelles.
I share this quote from author and producer Sydney Sheldon
"Libraries store the energy that fuels the imagination. They open up windows to the world and inspire us to explore and achieve and contribute to improving our quality of life."
We may not be able to change the current situation in Haiti, but I feel strongly that as an American, I have an obligation to at least help support a project that we started, and which clearly makes a difference in at least one part of Haiti.