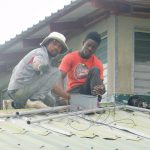 In the last few months, the library has witnessed the installation of flushable toilets, a solar electrical system including a solar pump and is reviewing other maintenance needs. The solar system was installed with appreciation to local organizations and individuals including the Essex Rotary Club. A local rising high school senior raised funds for the solar pump by completing odd jobs for people.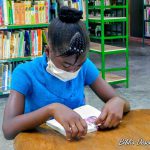 During much of the last few months like many libraries in the U.S., the Bibliothèque Communautaire Deschapelles was closed due to COVID-19. The library is gradually reopening with Covid-19 protocols in place including the wearing of masks, social distancing and handwashing. These protocols are being implemented in coordination with FOKAL – the organization which provides funding as well as guidance for the library. Haiti was fortunate that the number of cases of the virus was relatively low.
Previously, before the government shut down most public institutions including schools, members of the library staff attended a conference on educational technologies and recently made repairs to their computers. There is always a need for additional laptops, tablets and computers as access to the internet for research and online educational programs as well as digital books is very popular.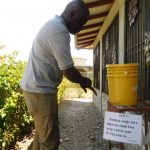 During the pandemic, Head Librarian Besly Belizaire implemented a handwashing project throughout the community of Deschapelles. It was well received and reflects well on the library staff. And the library is gradually reopening with Covid-19 protocols in place including the wearing of masks, social distancing and handwashing.
Future projects include: expanding the digital library; creating a proactive mobile library with the lending of books to more remote parts of the community; continuing programs that have benefited the community including book clubs, computer courses, arts classes and programs on social and civic responsibility;  creating a community garden; and expanding space for more theatrical  and dance performances. The library will continue to host a very successful Robotics program that has won country-wide awards.
The Library is a valuable part of the community and through its programs is in the paraphrased words of André Miraklin, Cultural Mission Manager of the Deschapelles Community Library, "helping more people, contributing to the development of the community and motivating the human conscience".  According to the BCD Library team in a report sent on May 12, "It is the only library in the department and the most renowned for its services, programs activities, and it is one of the best equipped libraries in the country". FOKAL has praised it and given it a high rating. A recent report sent by Besly Belizaire described how students at the library had benefited from its resources and programs including recognition in Robotics and success in the theatrical and literary world.