Tournament held in Petionville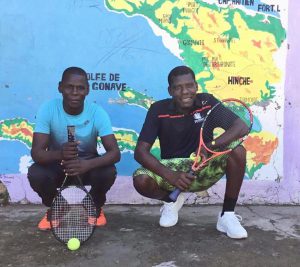 Now that the COVID-19 pandemic has abated in Haiti, where it never really became the scourge that it is in most countries in the world, the schools, churches, large outdoor meetings are now allowed.   The coaches, Walter Vertidort and Jude Luma, organized an in-house tournament for the younger players, mostly short court red and orange balls.  A  highlight of the tournament included an  important aspect of all tournaments our teams attends; a nourishing lunch.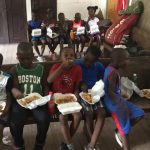 Coaches Walter and Jude took 12 of their top players ages 12 and 14 to an invitational  tournament in Port-au-Prince. from October 30 to November 2.  Some tournaments are one day tournaments, but others take place over several days.   The Deschapelles team boards a van at about 4:30 in the morning for the 3-hour drive to arrive in time for the tournament to begin.   The tournaments give the Deschapelles players opportunities to play against new opponents, where their skills are tested beyond what they meet in Deschapelles.   At the end of the tournament, be it a one-day or a several-day tournament, the team and coaches leave in the afternoon for the 3-hour trip back.  Walter and Jude provide bananas, mangoes and bread for the trip in.  Tournaments always provide a classic lunch of rice and beans, sometimes with chicken. On the way home the coaches stop at known vendors to purchase dinners.  This tournament was special as it was the first post pandemic tournament.  The Deschapelles team was proud to come home with trophies for the winners; in the age 12 girls  category, Dubreuille Alexensky Kechly won. In the age 14 category  girls, Estimable Christ-Marley won, and category boys, Richard Sterley was the winner.  In addition to the competition itself, this gives youth in Deschpelles the opportunity to see a different part of the country, a large city, and to interact with new people.  And all involved had the excitement of participating as the Deschapelles team returning with trophies,   and serving as good ambassadors from the town of Deschapelles .