In April 2011, members of a Deschapelles band, Fanfare, submitted an application to Sister Cities Essex Haiti for a musical exchange and support for their band.  In May 2011, after consultation with ODES and using the criteria established to determine the appropriateness of suggested projects, the Sister Cities Essex Haiti Board of Directors approved a Music Project which commenced with "Music Week" in June 2011.
Many towns in Haiti have local Fanfare Bands.  They are hired to play at funerals and they also play for different "occasions."  Deschapelles has such a band. The musicians often march as they play, and they play all their music from memory.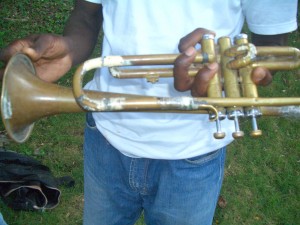 The quality of the music varies often according to the skill level and also the quality of the instruments. The bass drum they have been using was borrowed and had only one head, and that one was held together by tape. The mallet was a stick with a sock at the end.   The snares on the snare drum were totally loose. One trumpet was badly dented, with holes in the tubing that were taped, and lacked the buttons for the valves. Nonetheless, the musicians were able to produce joyous music despite the condition of their instruments.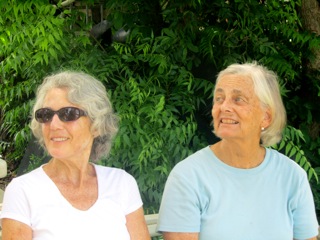 On a trip to Haiti in February 2011, Jenifer Grant, a director of SCEH, mentioned that a friend, a band conductor in Essex, had expressed interest in traveling to Haiti.  The Fanfare Group were thrilled, and submitted a project proposal for "Music Week in Haiti."   They were particularly eager that "Music Week" coincide with the annual Hospital Albert Schweitzer birthday celebration and Dr. Mellon's birthday, June 26th. Fanfare members were eager to augment their musical repertoire, work with a "Maestro," receive additional instruments, and generally increase their skills.
Concurrently, Karen Birch, the creator of the Oboe Concert, which was held in May 2011 in Essex to benefit SCEH, was in touch with Sigma Alpha Iota, a national musical fraternity which had been given donations for music in Haiti through their People to People Project .  They were delighted to form an alliance with Sister Cities Essex Haiti  to enable it to purchase instruments, music stands, and music books for the Music Project.  Stuart Ingersoll and Face Arts Music in Deep River, Connecticut made it possible for Sister Cities Essex Haiti to purchase the instruments at very affordable prices.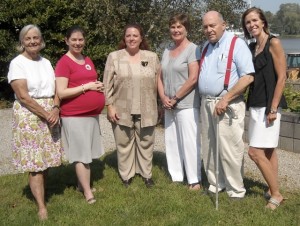 Sister Cities Essex Haiti received additional instruments as donations from Essex-area residents.  Over several years Jenifer Grant had delivered two trombones and three trumpets to Deschapelles musicians.
By June 2011, Sister Cities Essex Haiti was either given or was able to purchase  another trombone, an alto sax, two more trumpets, two clarinets, a flute, a bass drum, a snare drum and a baritone, all instruments that were requested by Fanfare. It also obtained technique books for each instrument in the band, sheet music, twenty music stands, and clothes pins to hold the music on the stands when the wind blew.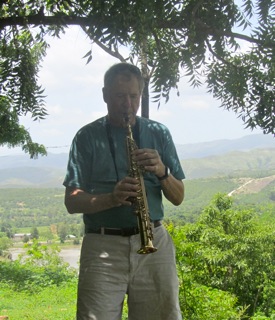 In June 2011, five musicians from the United States travelled to Deschapelles with the musical instruments: Maestro and trumpeter par excellence, Patricia (Paddy) Hurley, founder of the Essex Community Music School, creator and conductor of the adult New Horizons Band (for adults who either wanted to learn a musical instrument  or get reacquainted with their instruments), and a teacher of music for her entire career;  Roger LeCompte (alto sax) and Jenifer Grant (clarinet), each members of the New Horizons Band; and three youth; Alec Goodrich (trumpet) and Nick Smith (trombone and percussion) from Essex; and Jenifer's grandson Reid Kellogg (trumpet and percussion) from Boulder CO.  Tom Briggs, of the Community Music School, orchestrated two pieces for the group: Home on the Range, to evoke Dr. and Mrs. Mellon's time in Arizona, and a medley of "Just a Closer Walk with Thee" and "Amazing Grace."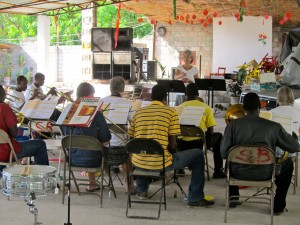 Sister Cities Essex Haiti had been told that the musicians could all read music.  As the musicians gathered together the first morning, they were not sure how this was all going to work.  Only Jenifer had heard the band previously.  Everyone set up stands, distributed music, put the drums together, and began playing a few rudimentary scales and exercises from the technique books.  It was a bit like first day in school – getting to know each other and becoming familiar with the different groups' expectations and hopes.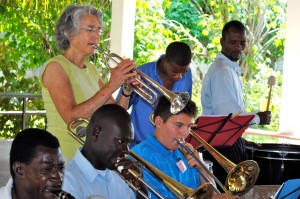 Patricia quickly ascertained that their skills were generally good and their ability to read music was strong enough to move along quite quickly.   Rehearsals took place every morning from 8:00 to 9:30 and sometimes in the afternoons.  After two days of rehearsals, the SCEH musicians attended a Fanfare performance and became acutely aware of Fanfare's competency.  They all wondered what they thought they were doing, thinking they could augment Fanfare's skills.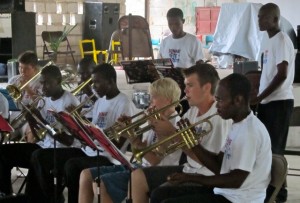 By the end of the week, however, the SCEH musicians had exposed Fanfare to quite a few new skills: reading music; being able to play a piece of music which had many different parts played by the different instruments; how to read the "road map" of a piece with repeats and first and second endings; how to play "piano" and "forte" (Fanfare bands specialize in "forte");and how to follow the tempo set by the "Maestro" including retards at the end and changing tempos within a piece.  The Fanfare musicians also learned to play in several different keys augmenting their one key repertoire. The combined group was able to play five pieces at the Saturday concert.  A remarkable achievement, considering the fact that they had only six days to prepare.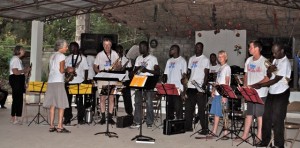 Most importantly, Sister Cities Essex Haiti and Fanfare established personal relationships with one another, participated in the 55th annual celebration of the founding of Hospital Albert Schweitzer, and fulfilled the mission of Sister Cities Essex Haiti, to build a mutual long-term relationship between the citizens of Essex CT and the people of Deschapelles, their extended communities, and Hospital Albert Schweitzer, located in Deschapelles.   Furthermore, it is a long term sustainable project as Sister Cities Essex Haiti has been invited by Fanfare to return to continue the musical collaboration.